Jay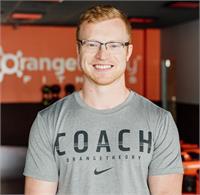 WHAT DO YOU BURN FOR?
I burn for constant change, and improvement. I always seek to get better with anything I do in life.
WHAT'S YOUR GUILTY PLEASURE?
My guilty pleasure would be snowboarding any chance I can. Nerdy stuff - video games, comic books (superheroes). Oh! I can't forget oreos and milk.
WHAT'S YOUR FAVORITE OTF EXERCISE?
My favorite exercise is the chest press (incline preferably), and the rower.
Jay instructs the following:
The largest capacity workouts at OTF. 3 Groups training in all 3 areas of Treadmills, Rowers and Weight Room at the same time. The duration of the training blocks for each area will be varied.




60 Minute Orange Theory Workout




The shortest workout at OTF. Typical workout will be 20 minutes of treadmill intervals and 20 minutes of floor blocks including weight room and rowers. Shorter workout but very effective.